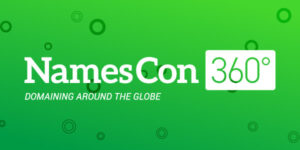 Registration is now open for NamesCon 360°, the first NamesCon all-digital event. This conference will run in a custom online venue that will offer the NamesCon experience wherever you are. The conference runs September 9th-11th 2020. Read more details here.
For the $59 ticket, you'll get:
 Access to great live and on-demand content—global and regional
 Network with fellow investors, industry experts, and key industry players from around the globe
 Flexible integration into your workday
 Access NamesCon 360° from any of your devices—or several at once.
 Save time and money, leave a smaller environmental footprint
If you book your ticket before July 31st 2020, we'll also send you a physical swag bag, wherever you are in the world.
Book your ticket here.
FREE FOR NEWCOMERS
NamesCon is offering free tickets to NamesCon newcomers:
"The domain industry is surging as it helps individuals and small businesses pivot and grow online. In our mission to bring the domaining world together, NamesCon is hosting what will be the largest-ever domain-industry conference, with content relevant to global and local markets. If you're brand-new to domain investing, you're entering the industry at the perfect time.
Let NamesCon help bring you up to speed with a free registration! Domaining newbies get in now before this industry goes more mainstream. Get in touch and we'll hook you up. These free passes are limited, so we suggest moving quickly!"
Contact Namescon at "producers (at) namescon.com" to secure your free ticket.