The Internet Corporation for Assigned Names and Numbers (ICANN) doesn't care about the thousands of comments, tweets, articles, petitions and opinions. Submitting comments and signing petitions achieves nothing. Like nothing was achieved by the 3,200 comments that were made on not lifting the .org price caps. ICANN ignored them and went ahead with the plan, screwing all domain name registrants in the world.
I tried to warn people back in April but almost no one cared: "Wake up people! ICANN and the registries want to steal your domain names!". ICANN and the registries are imposing a domain name tax that has no justification and also you can find no way around it.
Do you think ICANN cares about my and your comments? All they are seeing are the billions of dollars from private equity companies flowing that thinking about their new positions and bonuses.
.ORG is being sold to private equity fund "Ethos Capital" for $1.135 billion so while we were trying to spell out some disagreement about lifting price caps on .org, .info and .biz, ICANN has now conveniently moved the whole debate on the sale of the whole .org extension. Do you think a private equity fund would be interested in a fixed income company? No. But they are now seeing infinite potential by running a monopoly without any price caps. This is unprecedented in the world economy!
ICANN is deeply corrupted and everybody in there are just waiting for all this to go away (without anything happening to stop it) so they can go on to their new corporate positions on Ethos, PIR, Donuts, Afilias, Neustar, Verisign and all the other registry operators they have favored in the past few years.
They don't care what Tim Berners-Lee says.
I'm very concerned about the sale of .org to a private company. If the Public Interest Registry ends up not being required to act in the public interest, it would be a travesty. We need an urgent explanation. #SaveDotOrg

— Tim Berners-Lee (@timberners_lee) November 27, 2019
They don't care what the founding chairman of ICANN, Esther Dyson, thinks of the current ICANN board and this mess.
As founding chairman of #ICANN, I'm appalled… This is not what we were working for. ICANN races towards regulatory [and financial] capture: the great .ORG heist https://t.co/LvNYnsyEk4

— Esther Dyson (@edyson) November 26, 2019
The only thing they care about is their bank accounts. They are getting paid handsomely working for ICANN to serve the private companies and funds that they go to work after they have fulfilled their mission in ICANN.
Fadi Chehade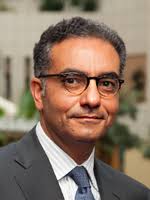 Fadi Chehade, former Chief Executive Officer of ICANN, is a prime example of this as he is the one that orchestrated all this. He started in 2012 when he joined ICANN. He was so shameless that he announced in August 2015 (while being the ICANN CEO) that he was going to be a Senior Advisor on Digital Strategy for ABRY Partners, a Boston-based private equity investment firm. That was 7 (!) months BEFORE leaving ICANN. ABRY Partners then went ahead and bought DONUTS that is the biggest New gTLD registry with 200+ domain name extensions. So he was working from the inside for at least 7 months! Fadi Chehade then became a consultant (also helping them incorporate) for Ethos Capital too. ABRY Partners and Ethos Capital probably share some or maybe all of their investors.
This is his company website and his Twitter account.
ICANN, .org and the $10,000 domain names

Now ICANN says that they can't stop ISOC selling PIR. First of all, yes they can. They awarded the stewardship of .org in 2002 to a non-profit (ISOC) operating another non-profit (PIR). Now PIR is moving to a private equity fund. They can just remove the stewardship and give .org to a public bid.
But the whole point here is not about stopping the PIR sale. The whole problem started when ICANN removed price caps from .org and other legacy extensions like .info and .biz.
Equity funds don't buy fixed income companies. They want to buy PIR/.org because of the infinite potential it has of printing money on the backs of all registrants. This was only possible after removing the price caps. Where was Ethos 6 years ago? PIR could then increase prices for .org domains by 10% every year. Why now?
ICANN claims that they are only moving .org and other extensions like .info and .biz to the "Base Registry Agreement". But there is one thing they are hiding. This agreement was/is called the "Base New gTLD legacy agreement". There is a reason "New gTLD" was/is in there. It is there because the "Base New gTLD legacy agreement" only applies/applied to the New gTLDs and NOT the legacy extensions. Guess who approved the "Base New gTLD legacy agreement"? Correct: Fadi Chehade.
The New gTLD legacy agreement also allows premium renewals for individual domains that the registry decides at will. Will this apply to .org soon? And then .com? When will this all end?
At this point my only hope except suing is the European Community stepping in and stopping ICANN as the current US government is a parody show. Yes, the bureaucratic European Community is unfortunately our only hope except it we take matters into our own hands.
Are you wondering who else will benefit if .com price caps are removed too? Well the only thing holding Donuts (ABRY and Fadi Chehade) and other New gTLD registries from increasing the minimum domain name price to $100+ per year was .com, .net and .org prices. Premium new gtlds are already priced at $2,500+ per year so the sky is the limit. Now that .org is gone there is only .com and .net left holding domain prices down.
We are talking about a cost of less than 50 cents per domain per year! This is how much these companies are charging!!!
Once .com is $10,000 per year, .net and .org are $2,500 per year then all new gtlds can increase to a minimum of $1,000 per year and bury all world businesses into this internet tax.
And guess what is the biggest New gTLD registry at this moment with over 200 extensions? Donuts. The company owned by Abry (that Ethos says has not connection but have probably the same investors behind them). Coincidentally Ethos and Abry have the same adviser, Fadi Chehade, and Fadi's best buddy from childhood Akram Atallah, former President of ICANN's Global Domains Division, is the CEO of Donuts. Erik Brooks that is the founder and CEO of Ethos Capital coincidentally was the Former Managing Partner of Abry Partners LLC. Finally, Donuts co-founder and chief counsel Jon Nevett is now the PIR/.org CEO.
An email from Sullivan to ISOC newsletter members said that Ethos Capital raised the money to buy the .org extension from three large funds:
Perot Holdings (affiliated with Petrus Asset Management Co/Petrus Holding Co)
FMR LLC (affiliated with Johnson family)
Solamere Capital (affiliated with Romney family)
Even ISOC's Netherlands chapter is opposing the sale together with ISOC Portugal and ISOC Switzerland.
Each of these legacy extensions (.com, .net, .org, .info, .biz, etc.) is essentially an unregulated monopoly. ICANN's only job was to regulate these legacy extensions but they refuse to do it because they are getting paid. So what good is having ICANN anymore?
$2 domains
There are tens of companies what would pay ICANN a lot of money just for the rights to operate .org at a fixed price of $2 per domain. But ICANN has gifted .org (and .com, .net, .info, .biz and other extensions) to its current registry operators to get rich for years to come! An open competitive bid for all legacy extensions is the only solution that I will accept from ICANN at this point. Of course they would never do that in their own so they must be forced to. Whoever charges the least per domain per year gets the registry for 10 years. I am sure that there will be bids for less that $2 per year per domain for .org, .info and .biz. And there will be bids at about $1 for .com. As it is, New gTLD registries are getting charged less than $1 per domain from their backend operators.
And yes as someone from outside the US, I want companies from outside the US to be able to make a bid on these extensions. I don't want all my renewal money going to US companies. Sorry but may the cheapest bid win.
Why don't we just give .org to its current back-end operator Afilias for 10 years with the price that PIR just negotiated in October? (See "PIR (.Org) slashes registry fee to Afilias in half to $18 million") That is less than $2.00 per domain per year. Why do we need Ethos Capital, a private equity firm, to sell .org domains for $20 or $200? Just because some selloffs at ICANN say so? Afilias is probably making over $10 million in profit per year over this .org deal.
Also I have to say that is not just a problem for the non-profits. This is a problem for all registrants of .org. And all other legacy extension registrants like .info and .biz as well. They will be all  blackmailed from a company that is essentially nothing more than a back-end operator. ISOC/PIR and ICANN don't own the .org extension or any of the other legacy extensions. All legacy extensions are part of the public infrastructure. They had different rules from day one. .Com, .net and .org existed before ICANN ever did.
ICANN is essentially extorting money from all domain name registrants. This has got to stop.
BTW I was against the option of .org and other registries having the ability to raise domain name prices by 10% every year. Domains are too expensive as it is as I explained above.
.Com and its registry Verisign got stopped by U.S. Department of Commerce from increasing .com prices for many years now.
Prices should be going down instead of up. Server cost is falling so why are we paying more for a company to host our domain name records?
Some also say that Ethos promised to ONLY increase .org prices by 10% each year. First of all I don't trust these sharks. And more importantly even a $1 increase is money stolen from companies around the world. It doesn't matter that it is $1 from each one. It matters that it is $10 million stolen with each $1 increase.
1/2 Jason, those in favor keep wanting people to focus on the micro level because the egregious nature of this arrangement is crystal clear when one looks at the macro level. Since there are around 10 million .org domain names, each unjustified $1 increase is around $10 million

— DomainArts (@domainarts) November 29, 2019
2/3 seized from .org registrants, many of them non-profits. This arrangement allows a private equity firm to plunder millions of dollars in donations intended for non-profits, depriving those non-profits of the funds needed to carry out their mission. You see $1, I see the

— DomainArts (@domainarts) November 29, 2019
3/3 $1+ billion in harm inflicted on .org registrants as valued by Ethos Capital. ICANN could have given the nonprofit community $2 .org domains by putting the registry out for bid. Instead ICANN treated nonprofits as a piggy bank for its pet projects. #ICANN #SaveDotOrg

— DomainArts (@domainarts) November 29, 2019
BTW, a "simple" 10% yearly increase (that is well above the current inflation) will bring .org domains at $26 in 10 years, $67 in 20 years, $1,174 in 50 years and $137,806 in 100 years!
Let's sue ICANN
So there is only one option available to stop these corrupt organizations: Let's sue ICANN.
Let's sue ICANN and dissolve it. We don't need it any more. ICANN is corrupt to the bone and there the only option we have is to kill it. ICANN is dead to us anyway.
Will it be a class action lawsuit? Will it be an antitrust lawsuit?
I also expect ICANN and the people on the ICANN board sued as well as the ICANN employees that orchestrated this. This includes former ICANN buddies Fadi Chehade and Akram Atallah.
I expect their communications and financial records checked, including bank accounts and shares/stocks, companies, etc.
Yes, ICANN can be sued. I don't know how but I am expecting attorneys to come up with ideas and a plan. ICANN has breached half their bylaws in the past 6 years and probably many US and international laws. ICANN headquarters are in California so I would expect to start from there.
I am willing to offer at least $5,000 per year to support this lawsuit. I am sure other people around the world will join me if they see a vision and some action. If the ICA starts a lawsuit then I will become a member and fully support it. At the moment they are not doing a lot more than what individuals, bloggers and journalists are doing.
Sure we can file for an Independent Review Process but that could take 2 years and then it is going to be too late.
Now ICANN also wants to give ICANN the ability to increase .com prices once again. Do we know who that ever worked in ICANN had Verisign stock while working for ICANN? No? Why not? ICANN giving Verisign the ability of a price increase would be a classic case of front-running trading as it would drive up Verisign stock. This is what U.S. Securities and Exchange Commission investigates every day. Is ICANN above any law? Has anyone ever in ICANN disclosed any conflicts?

Let's sue ICANN!!!
Here is some more reading material:
ICA Calls for ICANN to Withhold Approval of Purported .Org Registry Sale
Coalition Letter on Sale of Public Interest Registry
Internet world despairs as non-profit .org sold for $$$$ to private equity firm, price caps axed
As pressure builds over .org sell-off, internet governance bodies fall back into familiar pattern: Silence
Access Now calls on ICANN and ISOC to halt sale
The .ORG sale is a radical departure that puts the Internet at risk
Nonprofit community stands together to protect .org
ICANN races towards regulatory capture: the great .ORG heist
Private equity firm procures .org from the Internet Society, or: How the public interest got sold-out (again)
Private Equity Is Going to Ruin the .Org Domain System and Screw Nonprofits
Private equity firm buys .org domain months after ICANN lifted price caps
Four big developments in the .org pricing scandal
Please share this post or any of the posts/links above if you give a damn about the internet and its future.