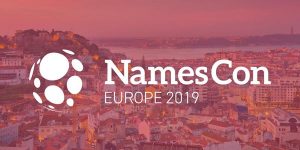 You can watch here the complete 30 minute video from "Ask me anything about GoDaddy's Aftermarket or Afternic" at NamesCon Europe 2019.
The AMA was part of the first day, Thursday June 20, of NamesCon Europe in Cascais Portugal.
Paul Nicks, VP & GM, Aftermarket at GoDaddy, Joe Styler, Sr. Manager Aftermarket Community at GoDaddy, and  Alan Shiflett , Sr. Manager at GoDaddy, were on stage representing GoDaddy and Afternic.
The video starts with Paul Nicks talking about the story of the $30 million domain name sale of Voice.com.
Please excuse the poor video and sound quality. Actually the sound is much better than the video.
Watch the video here: