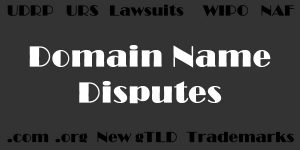 I got a message from a Spanish company trying to steal my domain. They used the contact form that I have on this domain name I own to send the message below.
I have nothing more on the domain name except this contact form. No content, no PPC, no ads, no "for sale" sign, no nothing.
I got this message threatening me to sell my 6-letter .com domain at a "reasonably price" to avoid a UDRP and a subsequent claim for damages.
The domain actually consists of 2 short English words BUT also means something else as a whole.
The company that wants to steal my domain is using a ******.tech for their website. I see they moved to this .tech domain from a .com domain, grupo******.com.
BTW they do not even own the domain name ******group.com that is used by a company in a different country.
Not that it makes a lot of difference at this point given that I don't infringe any of their (future) trademarks but the domain name was bought by me 8 months before this company was even created in October 2008 in Spain.
Here is what their clueless CIO sent me:
Dear Sirs/Madams:
1.-I am writing to you as the CIO of ****** ——————— S.L.(****** in advance), a Spanish company founded in 2008 that offers information technology services.
For further information, we invite you to visit the website https://www.******.tech/en/
2.- ****** are the owner of, among others, the European Union trademark nº********** .
3.- This trademark registration logically confers on ****** an exclusive right therein and the capacity to prohibit the use by others of any mark, sign, domain name or trade name identical or similar to the ****** mark.
4. As your domain name includes the identical name ****** for which we have prior trademark rights and you do not seem to have legitimate rights or interests in said domain name, this case would appear to come clearly under the regulations protecting the owners of trademarks and other earlier rights.
5-Consequently, with a view to avoiding not only an UDRP proceedings before the WIPO for recovery of the domain name but also a possible subsequent claim for damages arising out of the registration and use, as the case may be, of that domain name, and for the costs of the recovery process, we would like to purchase your domain name for a reasonably price.
6.-We look forward to hearing from you in this connection within 15 days from the date of receipt of this communication. You may contact us at the e-mail address @******.tech or by
telephone on ***********
Sincerely,
And this was my reply:
Dear Sirs/Madams
1. I told you this domain ******.com is not for sale on November 18th 2018 when you asked to purchase this domain name using a gmail email address. "I like this domain, how much for buy this?"
I now see that the request was made by "**************" that is an employee of yours.
2. I told the domain name broker you hired "No thanks" when you made an offer to purchase this domain on January 8th 2019.
3. Now you send me this "anonymous" letter threatening my company that clearly demonstrates the ignorance of your CIO in terms of domain names and IP law. I guess my reply will be buried so that it doesn't reach your higher executive team.
4. Your European Union trademark ***** is a figurative (!) mark for "Grupo******" from 2014. You have filed another trademark in 2018 for ****** that is not even registered yet because it was opposed. Both trademarks postdate our company's domain name registration of ******.com.
5. This is a false statement: "This trademark registration logically confers on ****** an exclusive right therein". Of course you don't have exclusive rights to generic words like "** ****". You MAY have exclusive rights in the class(es) that your future mark is registered in. Our use of the domain name does not infringe the rights of any trademarks.
6. See what ****** also means at Wikipedia. From https://en.wikipedia.org/wiki/******:
"********************************************************************************************* Known to the Greeks as ******, ************"
BTW I am Greek.
7. You do NOT have prior rights. We do. We bought the domain name years before your trademark (that is not yet registered) and even BEFORE your company was even created in 18/10/2008.
8. Any UDRP action at the WIPO will be countered with a lawsuit for OUR damages. That is after you lose the UDRP and you are labeled as a Reverse Domain Name Hijacker forever.
9. As I told you twice before this domain is not for sale.
10. This domain is certainly not for sale to you after these threats.
11. I expect an apology from your CIO AND your CEO.
Good night!
Konstantinos
Keeping records:
I now have a complete record of this encounter including emails, whois records, linkedin screenshots, trademarks and their company's incorporation records from October 2008. Just in case…
UPDATE: I actually got an apology from them today. (February 12th, 2019)