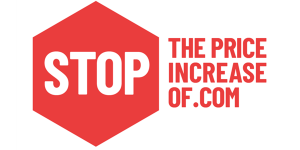 The Internet Commerce Association (ICA) has created a petition on Change.org to stop Verisign, the .com registry, from raising .COM pricing.
Sometime before November 30, 2018, the price of .COM domains may go up when the NTIA's Cooperative Agreement with Verisign expires! Demand that ICANN and the NTIA take action NOW to stop a potential price increase on .COM domains!
Currently the wholesale price of a .com domain name is at $7.85 per year. But it can easily shoot up to almost $14 in the next 6 years in Verisign is allowed to increase the .com prices.
$7.85 is already too expensive and should have been at about $2 to $3.
Millions of .COM registrants could pay hundreds of millions of dollars more in registration fees collectively if there is a .COM price increase. Verisign is already making outrageously high profits from its exclusive contract to operate the .COM registry.
Make your voice heard and join us by signing the petition to STOP any attempted price increase by Verisign!
Verisign, a public company with a market capitalization of over $16 billion and 2017 net income of US $457 million, enjoys monopoly-like control of all .COM domain names as the registry operator based on their contract with ICANN a California-based not-for-profit corporation that is in charge of managing the world-wide domain name system.
Verisign has been the exclusive registry operator for all .COM domain names since 2000. Dot-com is by far the most popular domain extension in the world, with nearly 134 million registered Dot-com domains.
In 2006 Verisign successfully negotiated a multi-year price increase worth hundreds of millions to them, and would have again in 2012 until the U.S. Department of Justice stepped in to thwart their efforts.
The current Cooperative Agreement between the U.S. National Telecommunications Information Administration (NTIA) and Verisign expires on November 30, 2018 and unless it is extended in its current form, Verisign may successfully get their long-sought price increase.
We, the millions of .com domain name registrants all over the world, stand to lose the most from a .com price increase, and we DEMAND THAT ICANN AND THE NTIA TAKE ACTION NOW TO STOP ANY .COM PRICE INCREASE.
Visit www.StopThePriceIncreaseOf.com for more information!
The Internet Commerce Association (ICA) is a non-profit advocating for the rights and interests of domain name owners and related service providers.