It seems that the .KIWI registry is using a new technique to get more domain name registrations. Digital fear along with some old fashioned domain name inflated registration numbers.
Umbrellar.nz, a New Zealand hosting and domain name company, in corporation with the .KIWI registry published a report called "THE BUSINESS DIGITAL SECURITY REPORT .KIWI".
Here are a few headlines and quotes from the report scaring domain name registrants of mainly .nz domains into buying .kiwi domains:
Angus Richardson of Dot Kiwi on how to protect your online brand and some cautionary tales: "The total cost to secure the domain names important to your customers is low relative to the cost of having your brand tarnished by cyber-attack. By securing domain names early, you are doing yourself an enormous favour."
$100 VERSUS A COMPLICATED LEGAL SYSTEM
4 WAYS YOU COULD BE PUTTING THE ONLINE SECURITY OF YOUR BUSINESS AT RISK
The report is targeting Umbrellar's 75,000 customers (mainly from New Zealand) and their 255,000 managed domains. Umbrellar has been in business for over 15 years and is one of NZ's first web hosting companies.
Using digital fear customers are urged into buying .kiwi domain names to save themselves from cyber-squatting and other security risks. Of course domain name digital fear is not all that new. Brand protection agencies have been selling fear to corporations for years and especially after New gTLDs came out in early 2014. I am not against brand protection but sometimes it gets out of hand.
The report is also using some inflated .kiwi registration numbers to make the .KIWI extension seem more credible and desirable than it is. .KIWI is currently ranked 17th overall in new gTLD domain registrations with a little over 200k domains. According to Namestat.org .kiwi had about 10,300 registrations on November 13th 2016. (less than a month ago) .KIWI launched in May 2014 and had less than 12,000 registered domains on its 1 year anniversary. It lost a few domains after that peak up to last month.
187,282 (96.1%) of the 200k domains have been registered with Tucows Domains Inc. and Web Drive Ltd in the past 3 weeks. The registrar Web Drive Ltd is owned by Umbrellar while Tucows is famous for its OpenSRS reseller program. Either Web Drive or Umbrellar must be an OpenSRS reseller.
Most (if not all) of the 187k domains are now registered to "Umbrellar Limited t/a Freeparking" and parked.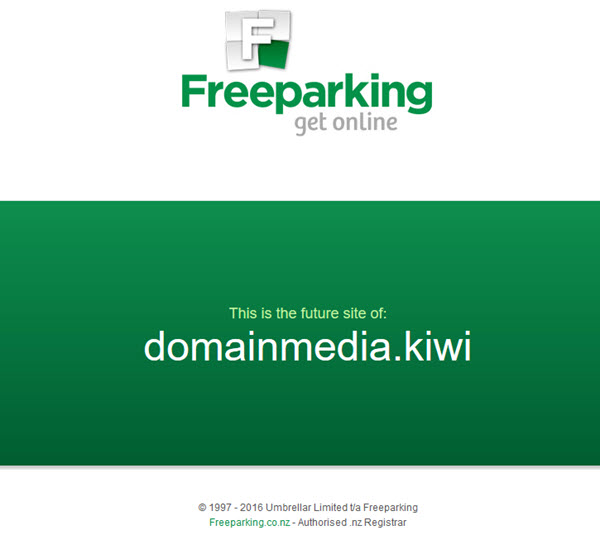 It is really unfortunate that Angus Richardson, managing director of .KIWI, is lying about the registration numbers in the report: "In 2011 I helped set up the .kiwi registry to give New Zealanders a fresh and unique online identity. Since that time, more than 100,000 of our domain names have been registered by Kiwis and Kiwi businesses, so this is a good domain to consider for New Zealand businesses." It is not even a good lie as the current fake numbers are above 200,000.
Adam Yamada wrote an article 2 days ago wondering about these new .kiwi registrations. The answers came from the report published yesterday and an article on a New Zealand security blog SecurityBriefNZ.
The truth is that .KIWI and Umbrellar are the ones that registered about 187k .kiwi domains to supposedly protect their customers:
"Two companies are taking a stand against cyber squatting and domain abuse by putting 200,000 .kiwi domain names on hold for a year as the owners develop their domain strategies.

Global registry Dot Kiwi and hosting provider Umbrellar will work together to ensure that the 75,000 customers are able to put their domain on hold for a year while they decide if the .kiwi domain name fits with their strategies."

"Recent research in New Zealand shows one in ten Kiwis are likely to fall for scam emails. Globally, spear-phishing directed toward company employees increased by 55% last year. So the risks are very real," says Dot Kiwi managing director Angus Richardson.
This is quite an investment on behalf of the .kiwi registry and Umbrellar of at least $200k (if not a lot higher). This could make or possibly break a small registry like .kiwi.
It is not clear how customers can claim their .kiwi domains that are "on hold" if they ever want to.