I was watching an NBA game and noticed that GoDaddy was advertising on the LED matrices of the court. It was a home game of the Milwaukee Bucks against the Golden State Warriors.
GoDaddy was running ads on the main LED matrix in the center of the court, the 2 smaller ones next to the benches and on the small ones on the baskets.
As you can see the ads had some text together with the GoDaddy brand name and logo but it was in Chinese. Why you might wonder…
The answer came during the game when an NBA card came up showing what countries from all over the world were watching the game.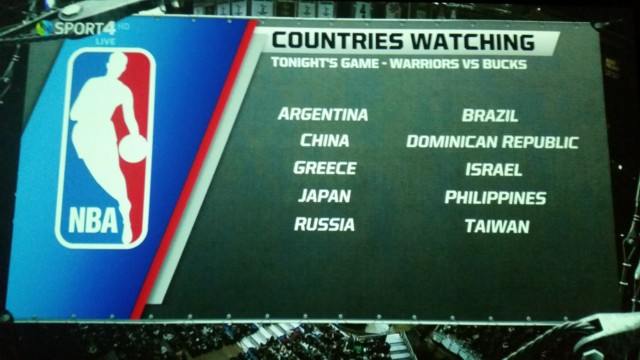 Among the 10 countries was China that is of course the biggest one and the one buying lots of domain names in the past couple of years. (and Greece!)
I magnified the Chinese text so everybody can see it here:

It says "买域名 逞网站" although I am not sure about the fourth character as I used an OCR. The translation is something in the lines of "Buy domain name – succeed website". (If anyone knows Chinese please confirm.)

So GoDaddy is using NBA to try to gain some bigger market share in China. NBA's popularity is certainly on the rise in the past few years in China.
They are using the matrices because they know that these will be seen in China. (Regional networks show their own ads during timeouts and half time.) GoDaddy has these ads on every home game of the Bucks. Not sure if they have them on other NBA teams or other sports in the US too.
BTW, I was watching the game because the Milwaukee Bucks and Golden State Warriors are my 2 favorite NBA teams to watch at the moment.
I am catching almost every game of the Milwaukee Bucks because of the Greek player Giannis Antetokounmpo and the Golden State Warriors is simply the team to watch this year (and in the previous 2 years as well) because of the big 3.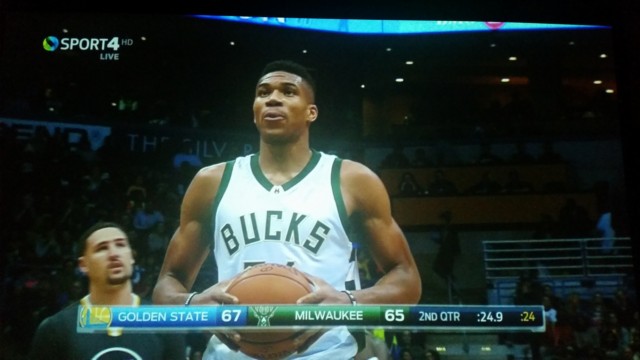 Milwaukee Bucks ended up loosing 124-121 to the Golden State Warriors but Giannis Antetokounmpo had 30 points, 4 rebounds and 6 assists.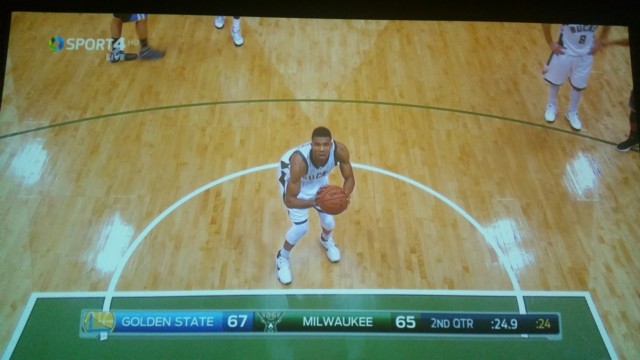 (Giannis had 34 points yesterday with the Bucks beating Cleveland. Read more at Cleveland.com: Cleveland Cavaliers crushed by Giannis Antetokounmpo, Milwaukee Bucks, 118-101)