I am so angry with GoDaddy. I am mostly angry with myself because I thought Godaddy had changed and become a serious and trustworthy company. I thought (by talking to a few hard working people from GoDaddy at various conferences) that the corporate beast called GoDaddy had changed. But no matter what you do you can't push an elephant.
Anyone dealing with GoDaddy as a registrar or auction place must be either crazy, masochists or they have already renewed their 2 domains for 10 years.
It seems that GoDaddy only has a few people doing any real work in there. Joe Styler and a few other people. Other than that nothing is being fixed and no issue is being resolved.
It seems like time has stopped in development. I will not even start with how difficult it is to sell domains at GoDaddy. Their system truly sucks.
I will only deal with buying expired domains which is of course designed ONLY for masochists. People that like to win domains in auction, pay for them, only to find that the domain names are renewed and their money is stuck in limbo. It is designed to give you a high and then a sudden low. It is like a bad drug…
My mistake
So I made the mistake to win a domain for $6,700 on a Wednesday last month. I can't pay by credit card that amount so I asked my account rep what the wire transfer details were and if the domain would be available when the wire arrived on Tuesday. Last time I did this the transaction defaulted after 3 days, I lost the domain, my wire arrived on the 4th day and my money got stuck in GoDaddy for months.
I immediately got an automated email that my rep is on paternity leave for a few weeks. Fine. But why don't I have a new account rep? What am I supposed to do "for a few weeks"? The support options given in the email were simply ridiculous. (I have still not heard anything from my rep or any other rep after several weeks.)
I messaged Joe Styler and he told me to contact Jason. I emailed Jason and never got a reply. NEVER! On Thursday and while I was already frustrated I got the usual email: "*******.com is no longer available" and "Your auction has been cancelled".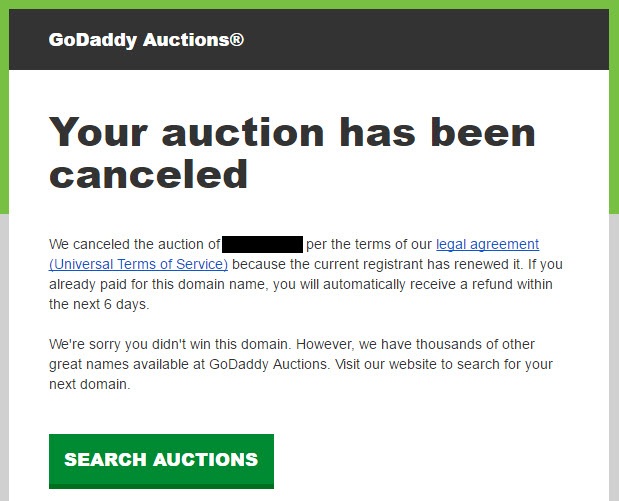 I wouldn't have been able to buy the domain name anyway!
Even if the domain was not renewed, I am absolutely sure that the domain would have defaulted on Saturday. Last time I was PROMISED that the domain will be waiting for my wire transfer and of course I was lied to. My funds turned into account credit and it was stuck at Godaddy for many months. This simply can't happen when buying a domain with a partner and for that kind of money. Actually it can't happen in general!
The whole GoDaddy expired domains issue

Their suggestion that I keep $10,000+ in credit at GoDaddy at any time in case I want to make a big purchase in the next 2 or 3 years is simply ridiculous.
I was personally promised in NamesCon 2015 that GoDdaddy would move the auction dates after day 42 so that the owner wouldn't be able to renew or transfer away a domain AFTER an auction has ended. This is what happens in all other expired domain name auction houses. 2 years later and nothing has changed. I guess this will not happen in our life span at Godaddy.
I first wrote about this problem 4 year ago in an article called "Your Auction Has Ended": Will GoDaddy give me back my time and money?". Of course me and several others have been ignored this whole time.
Several domain owners take advantage of this stupidity to get a live market domain appraisals. There are people that let hundreds of domains go to auction, get a sense of what they are worth and then transfer all domains away to a different registrar.
After this issue I was told that GoDaddy CAN move the dates but not easily. So why doesn't GoDaddy try doing something that requires a bit of hard work? It is not EASY for the thousands of GoDaddy customers, as it is.
The only thing that GoDaddy did was to put all expired domains behind privacy so that people can't see the email address and contact the owner. But anyone with a domaintools, whoisology or domainiq subscription can find the email address. That fixed nothing. And from what I see most domains are NOT put behind privacy. (because of another GoDaddy bug?)
No more big purchases
So I will NEVER make another large purchase of an expired domain at Godaddy unless a customer forces me to. And I will certainly never send a wire transfer to them.
And it is clear for sellers that if they want to have a domain name auction of significant value then GoDaddy is not the auction house to use.
I made a small $150 purchase last week and I was sure that the domain was going to be renewed. And it was. But I paid by Paypal and after 3-4 days I had my money back.
Nothing really works in Godaddy as it should be working. Nothing of value is getting fixed. I wonder who is in charge. Seriously GoDaddy, what the F*CK?