Hiro Tsukahara, CEO of GMO Registry Inc., talked about the new .shop extension in an interview on the United Domains blog. He said that the .Shop registry expects to reach 1 million domain name registration by year one. In comparison .blog launches on November 21 and expects 250,000 registrations by the end of 2016.
GMO Registry paid $41.5 million in an auction in January 2016 to acquire the rights to own the new .shop domain names.
Tsukahara revealed some very interesting details about the ICANN .shop auction and about the .shop plans for the future:
What did you expect from the .shop-auction? A tougher bidding battle with your competitors Amazon und Google? A higher/lower winning bid?
Tsukahara: It was difficult to know what to expect going into the auction. There were seven applicants in the race so it was a very diverse field. Of course we knew that we were up against some big players, but we also knew that everyone would be going in with a budget commensurate to what they believed .shop to be worth. In an ICANN public auction, you don't see who you are bidding against during the auction, only how many bidders are remaining so I can't comment on Amazon or Google, but needless to say I think it was a pretty tough bidding battle. For us in Tokyo, the auction started at 1:00am and concluded more than 9 hours later, after 10am the next day. In the last three hours there was only one other bidder still in the race.
I would have to say that we are satisfied with the winning bid, even more so now that we have seen the results of the .web auction. We believe very strongly in the potential of .shop and that is what defined our bidding strategy.
How many registrations do you expect within the first 24 hours after General Availability? Do you believe the launch of .shop will outperform .vip and .online registration numbers?
Tsukahara: The first 24 hours is always an exciting time in the launch of a new gTLD and we will certainly be watching the numbers closely, but we are taking a slightly longer view in our go to market strategy. Our goal is to reach 1 million registrations within the first year. I can say that we are seeing an incredible amount of interest in .shop from Internet users around the world, and registrars are reporting strong pre-registrations. I am confident that .shop will have a great first day.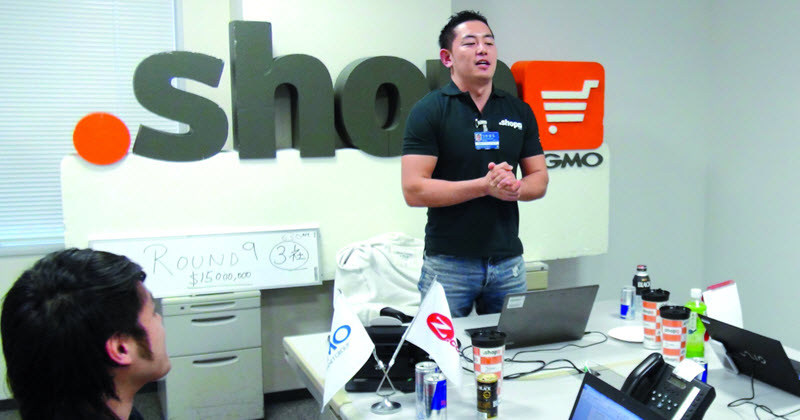 Do you expect many registrations from China?
Tsukahara: Yes. I have travelled to China a number of times over the past few months and have had some really encouraging discussions with Chinese registrars and domain investors. "Shop" is one of the few English terms understood and used in China and there is definitely interest from the Chinese market. Not only is China currently the largest market for new gTLDs, it is also the largest ecommerce market in the world so we see a lot of opportunity in working with China. We are now in the process of establishing a local company so that we can apply for the government license required for all registry operators. Once we have this, Chinese Internet users will be able to use .shop.
Who would you recommend to participate in the Early-Access-Program?
Tsukahara: Unlike other new gTLDs the .shop EAP runs for 26 days. This extended period is aimed at accommodating strong demand for .shop domain names. We want to make sure that as many people as possible have the opportunity to participate. For trademark holders that may have already secured their brand name during Sunrise, the EAP is a great opportunity to pick-up generic terms that are relevant to their industry verticals. Any offline business that is considering moving into ecommerce could also really benefit by picking a catchy, relevant name that would provide a competitive advantage in marketing and branding right from the start. I would also encourage existing ecommerce businesses to participate of course. Even businesses that are happy with their current primary online address, may find a use for a secondary domain name in promotions or other special events. Domainers looking to build a business around a brandable name will also find some great opportunities in EAP. The .shop EAP is open to all, and all are most welcome to participate.
You can read the complete interview on the United Domains blog.