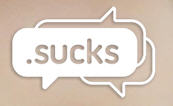 A previous post contained a list of 89 .sucks domain names that have been registered by trademark holders during the first few days of the sunrise period for .sucks.
Here is what a search for the corresponding .com domains revealed:
46 of the 89 .com are available to register. e.g. MacintoshSucks.com
A couple domains are expired or dropping. e.g. InstagramSucks.com
Most of the registered .com domains are owned by the trademark holders. e.g. bellmobilitysucks.com, merrilledgesucks.com, gmailsucks.com, taylorswiftsucks.com
Domains not registered by the trademark holder are very few and even fewer are being used: outlooksucks.com.
This is simply ridiculous situation and guess who's fault is this mess? It is not the .Sucks registry's fault. It is the "brand protection" registrars's fault.
I don't get what is this "sucks" fixation that brand protection companies and the media have. Nobody cares about "sucks" domains. NOBODY! When someone writes an article saying that "brands are fearing the new .sucks domains" they are actually quoting the "brand protection" agencies that are spreading the fear. The fear that drives these $2,500 registrations. This whole New gTLD program is the "brand protection" agency dream come true!
I am only writing these posts because I am fascinated by these $2,500 domains being registered.
If you think a company "sucks" and you want to create a "sucks" website you can just buy any domain you want. You don't need a .sucks domain name and not even a .com domain name. It is not like you are building a brand on it or something like that. Most of the times these are websites with an expiration date.
More on this "sucks" craze coming soon…
Here is the list of available *****sucks.com domain names:
ibookssucks.com
coverallsucks.com
iadsucks.com
adwordssucks.com
schwabbanksucks.com
calvinsucks.com
macbookairsucks.com
finalcutprosucks.com
bacsucks.com
totalmerrillsucks.com
itunesradiosucks.com
macprosucks.com
ipadairsucks.com
bloggersucks.com
slalomsucks.com
sanlamsucks.com
cam4sucks.com
bankofopportunitysucks.com
hollandamericalinesucks.com
cashmanagementaccountsucks.com
ustrustsucks.com
justinssucks.com
osxsucks.com
thepowerofglobalconnectionssucks.com
wwenetworksucks.com
sasolsucks.com
ecosmartsucks.com
bofamlsucks.com
onedrivesucks.com
macintoshsucks.com
abmsucks.com
balancerewardssucks.com
beatsbydrdresucks.com
beatspillsucks.com
dollarbanksucks.com
ipodtouchsucks.com
keepthechangesucks.com
moodysinvestorsservicesucks.com
onyoursidesucks.com
promontorysucks.com
sidley-austinsucks.com
smartmaticsucks.com
traderinstinctsucks.com
verandasucks.com
vyvxsucks.com
windowsphonesucks.com
I guess a few will be registered after this post because some people can't help it and want to go wasting their money. Please don't.