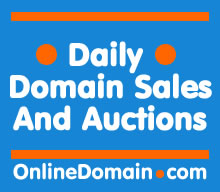 How probable is it for a google engineer to pay a lot of money for a 1-word .com, registered in 1996? A domain that gets offers every day and its word has been featured on the cover of wired magazine as the main story?
NOT PROBABLE! I got a $350 offer and then a $1,500 offer and he dissapeared. It's no surprise he is using a .io domain name for his blog.
NameJet Sold 941 Domains Names For Almost 6 Million USD In 2014
Trademark Clearinghouse: 1,626 Marks Have Expired While Submissions Are Slowing Down
.Net Domain Name Price Goes Up 10% On February 1st, 2015 (Up 46% Since 2012) 
Poll Results: 30% Of People Will Renew All New gTLD Domains While 15% Will Drop Them All
Domaining Europe 2015 Will Feature Adam Dicker, Braden Pollock, Michele Neylon, Paul Keating
Escrow.com Releases Express Cart – A Way To Provide Escrow Services On Your Website
Check out my latest domain name renewal/drop report: November: 827 Domain Name Renewals And 119 Drops (12.6%)
It seems that owners of high premium New gTLD domains are trying to sell them by hiding renewal cost? What do you think?
Here are the Top 10 New gTLD Domain Name Sales Of 2014.
See here The 13 Most Expensive & Developed New gTLD Domains Of 2014 with screenshots of the websites included in the article.
Click here to see all the old daily domain sale reports.
Here are yesterday's domain sales and auctions from Sedo, Namejet, Snapnames, Go Daddy, Drop Catch and Flippa (please note that a lot of the domain names listed below have not been paid for yet):
Namejet Domain Auctions:
yry.com $25,022
4994.com $16,100
3411.com $12,100
2508.com $11,801
xgu.com $9,756
vvq.com $8,700
3571.com $8,694
misplaced.com $3,101
springbreaks.com $1,950
await.com $1,900
earliest.com $1,555
4-0.com $1,201
mbsh.com $571
4-o.com $343
groundzero.net $260
Snapnames Domain Auctions:

| | |
| --- | --- |
| js878.com | $1,635 |
| js889.com | $1,611 |
| traductor.org | $1,376 |
| greendome.us | $1,328 |
| thedailyjux.com | $1,179 |
| 93m.com | $1,101 |
| fauxfire.com | $1,035 |
| dupemonkey.com | $1,034 |
| zd2.com | $800 |
| freesoftwareszone.com | $422 |
| thiet-ke-website.org | $305 |
| mfhh.com | $275 |
| jdmw.com | $255 |
| thetechreport.tv | $205 |
| bostonfitnessmagazine.com | $190 |
| usiw.com | $165 |
| oklahoma-bankruptcy-attorney.com | $165 |
| greefl.com | $122 |
| 40368.com | $105 |
| alleganoldjail.org | $100 |
| qpny.com | $95 |
| fcpz.com | $95 |
| jwnz.com | $95 |
| stpq.com | $90 |
| angelawessling.com | $85 |
| moroccanorganics.com | $80 |
| missionbaysportfishing.com | $67 |
| gihv.com | $55 |
| flvmx.com | $55 |
| ihtworld.com | $45 |
| stonegaterocks.com | $45 |
| gvaw.com | $37 |
| ebzf.com | $37 |
| torre21.com | $35 |
| us-employment.net | $35 |
| jjwv.com | $32 |
| agenziapuntocasa.org | $22 |
| officialreversephonelookups.info | $15 |
DropCatch Dropped Auctions:
Mupao.com $245
Vilico.com $236
TourStation.com $170
Flippa Domain Auctions:
EmailTraining.com $2,639
finance.fm $1,000
UploadAudio.com $300
OnlineDating.io $105
UnitedKingdom.io $105
droneship.it $101