I was the target of what seems to be a new spam (or a potential scam) method. Someone I didn't know started an Escrow.com transaction for a domain name that I had never seen before: PJA.com.
The transaction title was "Chance for you to get PJA.com in Cheap price" and the price was set at $22,222. The seller/broker was SHAHENAZ SHAFI SHAIKH (shahenazandshafi@gmail.com). I don't know if this a real name or not. The seller was set as "Confidential".
The transaction was cancelled an hour later but I don't think this was a mistake.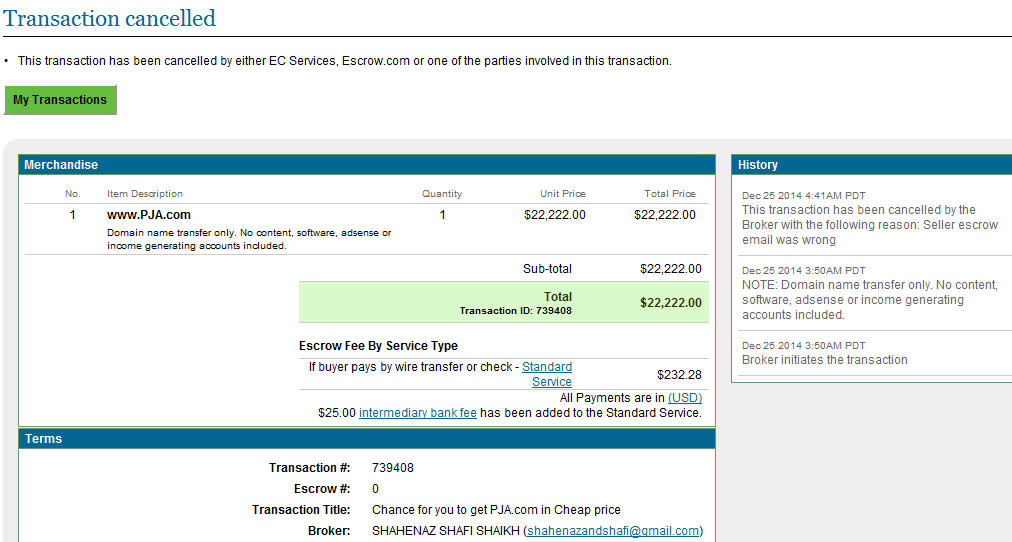 I then received an email from the same "broker" with the subject "PJA.com exclusive offer of buy now in 22222 US $". The email was sent to other people from all over the world that I could see their email addresses:
Dear All
PJA.com exclusive offer of buy now in 22222 US $
Brokering for you in same price.
Shahenaz.com
Shahenaz.com is selling other domains that are mostly short .co domains and 6 digit .com domains.
This seems a good way to bypass any spam filters and get your attention. The spam email came using the Escrow.com's good reputation. I am sure that Escrow.com will ban this account but will this be the last spammer using escrow.com?
I was mostly concerned if PJA.com was a stolen domain name so I did some research.
PJA.com was owned until September 2014 by Peter Jackson Associates Limited from Great Britain. It was registered with NETWORK SOLUTIONS. It then went behind whois privacy for 3 weeks only to resurface as owned Glenn Smith from the US.
2 weeks later it was owned by Andrea Sabatini from Hong Kong and it was transferred to Go Daddy on the 20th of November. It is now parked and marked for sale. On December 13th it was listed for sale at Flippa by an account selling a few 3 letter .com domains among other domains.
I have no idea how these are all connected and if this is a spam only issue or this involves domain theft or a simple scam. I suggest you be cautious when dealing with this and with other domain names that have changed a lot of owners in a short period of time and are being sold by someone with an email address that is not listed in whois.