Demand Media announced that is getting a new look and a new logo. Changes will appear on their corporate website first and then at the consumer sites.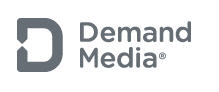 Demand Media said:
"Our new logo is all about connecting and about serving as a touchpoint in people's real lives. We connect people to content that's relevant to them. We connect businesses to the web. We connect brands with people and people with brands.
You can see this here on our corporate website, and you'll see it roll out over the coming weeks on our consumer sites. This new look and way of telling our story reflects the new Demand Media and our evolution as the place people come to first to find content for real life."
Demand Media also claimed that every month more than 100 million people come to them from across the globe, and 1 in 3 Americans who are online are visiting our sites.
Demand Media, Inc. is an American content and social-media company that operates online brands such as eHow, and Cracked, and is known for creating online content through its Demand Media Studios division. The company also provides social-media platforms to existing large company websites and distributes content bundled with social-media tools to outlets around the web.The company also owns eNom, the world's second-largest domain registrar. On January 7, 2013, Demand Media announced the acquisition of domain name registrar Name.com.