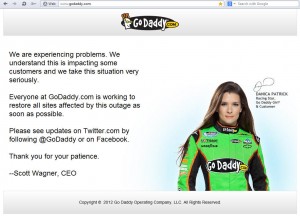 Back in June I was thinking of launching my own domain name blog. I was between switching dedicated servers so I didn't want to build the new blog on the old server while making the move. I wouldn't be able to do much testing while the data was transfered.
So I decided to build onlinedomain.com, test it and run it temporarily at a different hosting service. I was looking around for a simple blog hosting service when Elliot Silver wrote this article on his blog on June 14th 2012: My Flawless Switch to Go Daddy Hosting GoDaddy wordpress hosting was cheap and probably reliable. I researched a little bit and also found that the Domain Name Wire had moved to GoDaddy the previous month. I was sold.
I don't keep any domains at GoDaddy except for those I buy at GoDaddy auctions. And I move these domains to one of my preferred registrars before they are up for renewal. I don't really like GoDaddy as a registrar. They seem too impersonal and big to me and have had some bad experiences with them with some hidden fees that I was charged for no reason. But I thought: "It is just a temporary hosting service, what could go wrong?"
This can: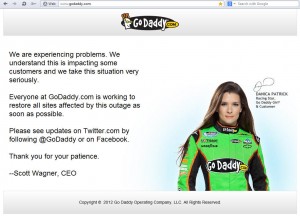 Well as anyone knows by now everything went wrong at GoDaddy and the entire hosting service was down. Millions of websites were down for about 7 hours including many popular domain name blogs like Domain Incite and of course Elliot's Blog and the Domain Name Wire!
I guessed I should have listened to my registrar doubts or Theo that warned everyone with this post about GoDaddy hosting: One more reason not to use GoDaddy hosting.
Andrew Allemann just announced that his is sticking with GoDaddy but I will transfer my blog away in 1-2 months. That was the plan from the beginning. My dedicated server transfer has been completed. To GoDaddy's defense I must say that their servers are pretty fast. When they are online… 🙂
The 7 hour outage was during peak hours in the US so my blog traffic for Monday was lower than Sunday, if that is ever possible. So if you missed my post from yesterday here it is: Are UDRP panelists paid for doing nothing?
This Monday was also the first day that one of posts was included in the daily domaining.com newsletter. Talk about luck. I guess nobody read my post. Here it is: UDRP complaint for bilt.net denied at WIPO (Listing a domain for sale is not bad faith)