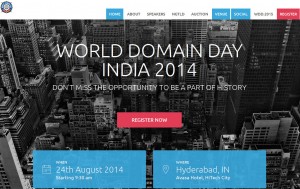 Indian Domain Owners Association, (IDOA) the organization of leading domain investors, web entrepreneurs and service in India, is organizing the first ever international domain conference in India, called World Domain Day [WDD.2014] on 24th August 2014 at Hyderabad.
Announced speakers at the conference include Mike Mann, Andrew Rosener, Andee Hill, Adam Dicker and more.
I made this post earlier but I got some information and I wanted to confirm what this conference is all about. I talked to Andee Hill and she confirmed that she will be speaking at this conference but remotely. She mentioned that others will do the same so I assume that all US speakers will be talking remotely.
I also found out that Sedo is going to be a sponsor. So I made these additions and reposted the article. I think that this should clear most things up. Some allegations about the past of some of the people behind the conference remain.
WDD says it expects attendees from India, USA, UK, Dubai, Australia, Denmark, New Zealand etc. and says that it expects to get extensive media coverage.