As you may have heard Go Daddy has discontinued the email support for some months now. They only use live chat and phone support now. They thought that email support was too slow. And it was. I usually got a first response 24 to 48 hours after I opened a ticket but the main problem was that the response was always a canned one, telling you to check the FAQ.
None of my problems were not resolved reading the FAQ, which I did read before contacting support, so I usually ended up going back an forth with the Go Daddy support for a few days until I got them to actually DO something instead of telling me "read the FAQ" or "this is not possible". I was only getting one response per day no matter how fast I replied to them.
The other day I had a problem with a refund that I had once before a few months back. So because it was night here in Greece and the new European phone support center was closed (it is not open 24/7 as the US one) I thought about trying the Go Daddy chat support. I didn't use the US phone support as it is very expensive to call US from Greece.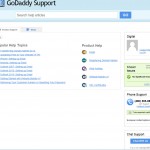 You can find the chat support at the bottom right of the go Daddy support webpage. Take a look at the photo on the left.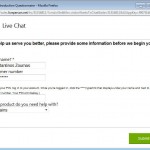 So I opened the chat support you can see on the left and got this message:
A product expert will be with you soon. Estimated wait time is 16 minutes. Thank you for your patience.